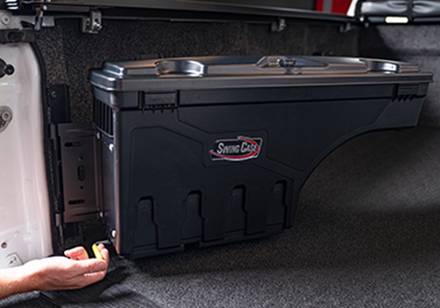 SWINGS OPEN FOR EASY ACCESS 
Pull the latch and the Swing Case comes to you! The locking lid keeps your gear secure and protected from the elements.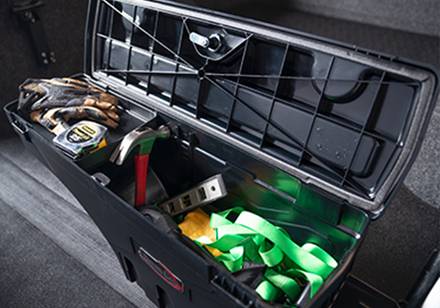 SPACIOUS STORAGE 
Stow up to 75 pounds of gear in the Swing Case to improve your bed's organization and free up room for larger items. 
Outer dimensions: upper case 29" long, lower case 15" long, 8" wide
Inner dimensions: 15" max depth, 8" min depth
Creates storage space in a frequently unused part of the bed
Keep clutter and small items out of your bed
Easy to remove and reinstall when extra bed space is needed
One-year warranty
If you're looking for a way to keep your tools in your truck bed without losing any bed space, then the UnderCover Swing Case would be the perfect product for you. It can hold up to 75 lbs of cargo and stays folded up neatly inside of the bed against the wheel well, not taking away any precious cargo space. Whenever you need to use it, simply pull the latch and it pivots 180 degrees to provide you with instant access. For those of you who need to take it on the job with you, you'll be glad to know that it can be disconnected in a matter of seconds!
Product Details
Must Remove Factory Bed Extender to Install
Upper Case Length: 29"
Lower Case Length: 15"
Height: 15"
Depth: 8"
Drilling needed